User manual - Define a physical model¶
This section introduces the models defined with a vectorial function.
Several types of physical models are available:

Symbolic model: Physical model defined with analytical formulas
Python model: Physical model defined with a Python script
YACS model: Physical model defined with a YACS scheme (optional)
FMI model: Physical model defined with a FMU file (optional)
1- Creation¶
There are several ways to create a new model:

Select an item in the context menu of the study item

Click on a button of the study window
The creation of a physical model adds a new element in the study tree, below the Physical models section.
Different actions are available through the context menu of the model (by right click):

Rename: Rename the model
Define the model: Open a new window to define the model
Duplicate the model: Create a copy of the model in the study tree
Remove: Remove the model and all the analyses depending on it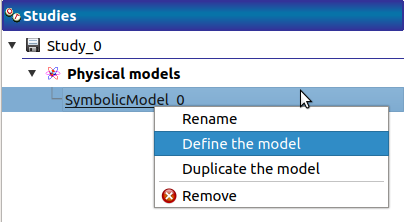 The item is associated with a Study workflow window.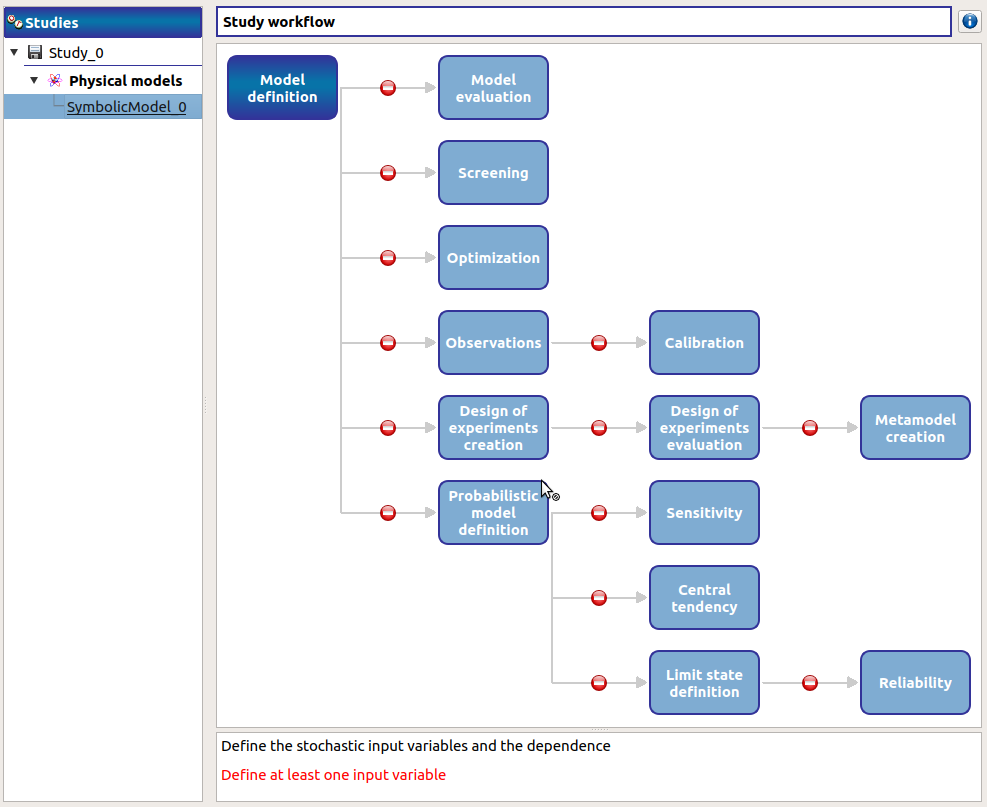 This diagram displays the possible actions an user can perform in real time. An action is active when its box is in dark green and when a previous one is valid. A box is disabled when its box is in light green, and the previous one is not valid. When the mouse pointer is hovered over a box, an information message appears at the bottom of the window in order to specify what sort of actions the box proposes. If the box is disabled the message indicates why the previous one is not valid.
On the screenshot above, the mouse points over the Probabilistic model definition box: here the action is Define stochastic input variables and the dependence (below the main window), but this action is available only if the user defines at least one input variable in the physical model. So, here the only option of the user is to complete the model.
2- Definition¶
To define a physical model:

Select Define the model in the context menu of the model item

Click on the Model definition box of the model diagram
When the definition is required, a new item named Definition appears in the study tree.
Its context menu proposes these actions:

Probabilistic model: Create stochastic input variables and dependence
Observations: Import observations of variables of the model
Design of experiments: Create a new design of experiments
Evaluation: Evaluate the model at a point
Screening: Perform a screening analysis
Optimization: Perform an optimization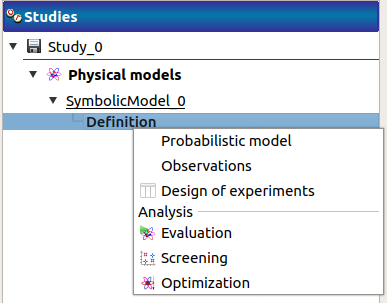 The new item Definition is associated with a window in the main frame, whose title is the name of the chosen physical model. In this window, the user can specify the model variables (Definition tab) and the finite difference step of each variable (Differentiation tab).